NIK representatives visited among others the Supreme Council of Ukraine. The main subject discussed with the First Deputy Chairperson of the Council, Iryna Herashchenko, concerned issues related to the procedures governing the appointment of new authorities of the Accounting Office of Ukraine. Ms Herashchenko thanked for the involvement and assistance provided by NIK with regard to the implementation of the changes. NIK President also met with the retiring President of the Accounting Office - Roman Maguta.
Meetings at the ministries mainly concerned the support of institutional reforms in Ukraine: counteracting corruption, cooperation of audit bodies with the prosecutor's office and courts, as well as improvement of road security.
At the meeting the Minister of Interior, Arsen Awakow, was provided with documents concerning the road safety. The President of NIK presented the road traffic audit conducted by NIK. Krzysztof Kwiatkowski mentioned among other the function of the Road Transport Inspectorate and conclusions resulting from NIK reports concerning assistance to the road accident victims. Minister Awakow thanked the delegation for support and expertise.
NIK reports concerning the activity of expert witnesses, who support the judicial system and court registers were also discussed with the Ukrainiena Minister of Justice, Paweł Petrenko.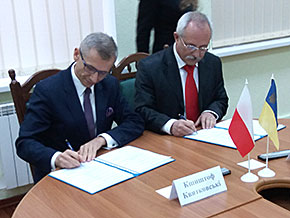 NIK actively supports Ukrainians in implementing anti-corruption policy and improving professional capacity of public administration officers. Representatives of NIK participate in the preparation of new legal acts concerning the operation of the state. NIK also proposed to conduct trainings for the Ukrainian public sector.
This July deputes of the Supreme Council of Ukraine, invited by the President of NIK, visited the Supreme Audit Office of Poland. At the seminars and workshops the deputies were provided with information on the constitutional position of NIK, its organisation, operating principles and audit methodology.
These subjects were also addressed by the President of NIK in his speech Audit of the public finances as an economic development factor given in the Civil Service Academy. Krzysztof Kwiatkowski stressed that each aware citizen, who responsively thinks about the future, should constantly be concerned for the quality of the state organisation. - This concern is reflected in public audit systems - NIK President pointed out and said that the Supreme Audit Office of Poland, which he has the honour to head, is an example of such an institution that continually reviews the quality of the state operations and directs the executive and legislative to those areas that need improvement.
During the meeting NIK and the Civil Service Academy signed a cooperation memoranfum. In the framework of the previous agreement, concluded in 2015, students of the Academy participated in trainings on public finance audit and counteracting corruption organised by NIK
A corresponding cooperation agreement was also signed with the National Prosecution Academy of Ukraine.
NIK reprentatives also met with the Polish-Ukrainian deputies.